Roger Inniss: Bass, Mike 'Sugar' Cahen: Guitar, Enzo Todesco: drums.
Mike: 'Enzo and I go back to 1984 when we met at the Musicians Institute in Hollywood, California. During the following years, we bumped into each other during various tours. We decided to do some playing together so I called up bassist Roger Inniss to complete the line-up. We did two sets of gigs in Paris and recording sessions. A live album 'Parisian Nights' is available for download on ITunes and was released on the Speegra label.
Jazz/Blues/Fusion Trio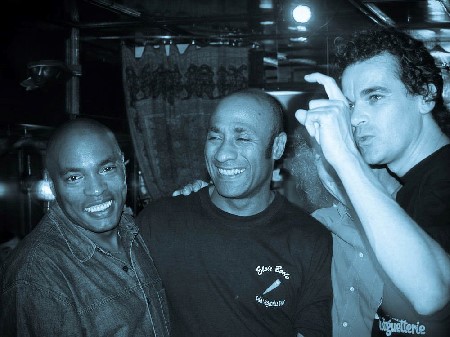 Roger Inniss, Mike Cahen, Enzo Todesco
'Parisian Nights' Live album available for download on ITunes, Amazon & other digital platforms.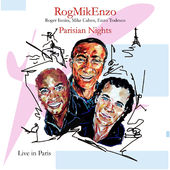 Spotify
Buy the Parisian Nights album by RogMikENzo
The RogMikEnzo page at Speegra Records
It's with a shock that I learnt the passing of a true brother in arms.

Enzo passed away the 10/12/2016 in Santa Barbara, California and wished to keep his fight against cancer private.

We first met in 1985 in Los Angeles whilst attending the Musician's Institute.
It was clear from the outset that his skills were exceptional, a childhood prodigy, virtually intimidating, head and shoulders above the rest and not just as a drummer but as a musician.
We later met up in Paris during a Gino Vanelli gig and had a memorable party in my flat with guitarist Mike Miller and singer Maxayne.
Our paths crossed sometime later and we decided to do some playing together so I called bassist Roger Inniss and we formed RogMikEnzo. Having no repertoire it evolved into an improvisational group.
I'm planning on putting up photos, studio out-takes of things we've done together to honour his memory. As a person he was humble and we shared the same approach to life. I could have met him in the States this summer, but it was not to be, and he never mentioned his plight.
He brought out the best in my playing.

Rest in peace.