Born and raised in London.
Guitar, bass and Mohan Veena (Indian instrument with 21 strings)
Music was always 'there' for me. From distant hazy memories of the Shadows with their dance step routine playing 'Apache' on black and white T.V sets to the present. Hissing valve radio sets and pirate radio stations. London's swinging Sixties' offered an inventive and creative auditive overload with the added visual kudos of hotpants hitting Carnaby Street. Like many other kids in England, I sang as a choirboy at the Holy Trinity church, Richmond, Surrey.
The move from Richmond to Montpellier in the South of France. As a teenager, in Vers - Pont du Gard, my mate from London, whose family had also moved from Richmond to France, Phil Clark was witness to an incident which changed my life. The obvious outlet to me was to start playing music. Phil remembers me picking up his sister's guitar and saying 'I'm going to learn to play this thing'.
Initially self taught, I learned the basics with some old classical guitar methods, with which my mum had tried to learn to play on an old classical German parlour guitar she had bought and left hanging on a wall.

After a year of learning classical pieces, arpeggios and chords I received a Maya Japanese Strat copy as a birthday present with an Italian 'Gem' 20 Watt amp.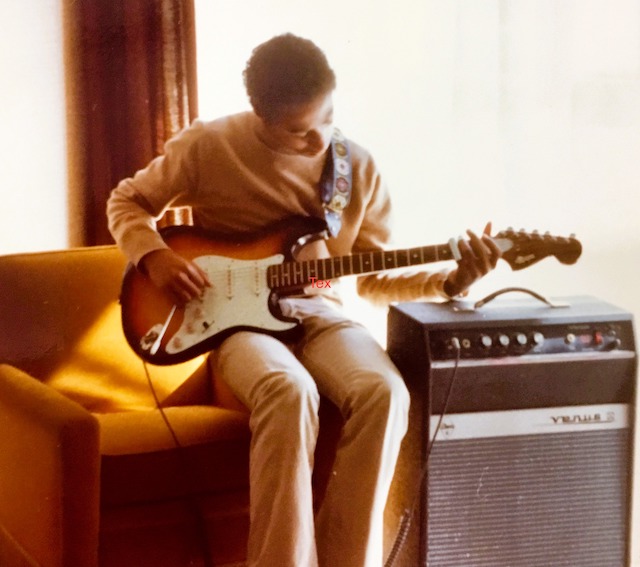 At that time there were only two guitar methods available in Montpellier: one by American guitarist Mickey Baker and the other by a French session guy called Pierre Fanen.
Learning to play meant listening to vinyl records and trying to figure out how my 'heroes' were playing...
Open tunings? Vibrato? Which position, scale, string, fingering, chord and where on the neck? What guitar or amp is being used? Trial and error in a world of slowly unfolding mysteries...And some influential meetings on the way:
First, Raymond Fol.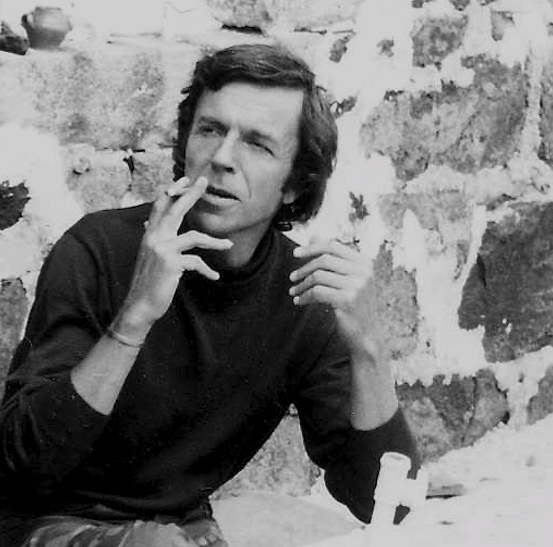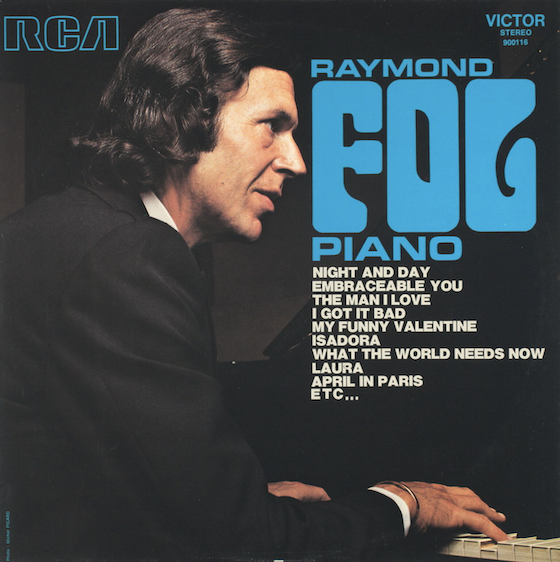 My mother spent WWII in Brittany with her childhood friend Raymond Fol, who later became the pianist in the Hot Club de France with Django Reinhardt, he was also a close friend of Duke Ellington and guested as a soloist in his band. When I was a teenager, Raymond would invite me to listen to his trio in festival gigs in the South of France, and introduce me backstage to his drummer Sam Woodyard from the Duke Ellington Orchestra or bluesman Buddy Guy...

Brian Fahey
I was married for 15 years with singer Amanda Fahey, the daughter of british arranger and band leader Brian Fahey. He and his wife Audrey were very supportive of our musical projets. He wrote the charts for our band projets and co wrote the tune 'Spice' for one of Amanda's albums.
Brian Fahey with Ella Fiztgerald. 'Satin Doll'
After playing for ten years and already doing gigs and my first sessions in the South of France, I decided to attend the Guitar Institute of Technology at the Musician's Institute in Los Angeles.

Hollywood and the G.I.T (Guitar Institute of Technology)

Following a first 'scouting trip' to the U.S to check out the Berklee School of Music in Boston then going West to L.A to visit the Musicians Institute/G.I.T (Guitar Institute of Technology) my goal was set on attending the later. There was a intimate family vibe to the G.I.T at the time with an incredible array of the best guitarists in the business:
Robben Ford, Joe Pass, Frank Gambale, Keith Wyatt, Art Renshaw, Joe Diorio, Paul Gibert, Tommy Tedesco, Larry Carlton, Eddie Van Halen, Jennifer Batten, Steve Vai, Ray Gomez, Eric Johnson, Larry Coryell, Ron Eschete, and many others...
Post jam insights from Robben Ford at G.I.T.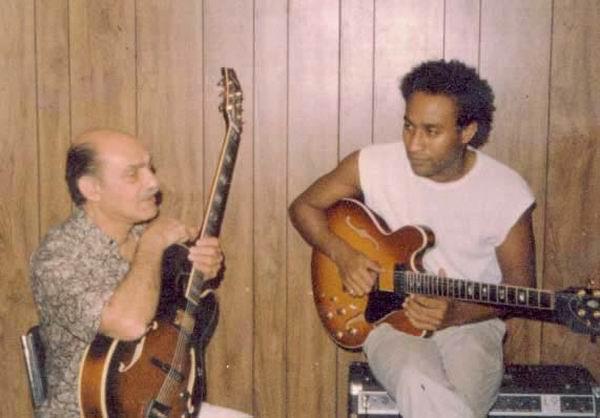 G.I.T with Joe Pass
Some fellow 'students':
Jeff Buckley, John Frusciante, Kurt Bisquera, Allen Hinds, Jimmy Herring, Enzo Tedesco, Marie Ange Martin.
Anecdotes from Hollywood.
I flat shared in two locations in Hollywood: North Orange Drive, a stone's throw from Mann's Chinese Theatre, then in North Fuller Ave.
The main action took place in the second flat... Valerie Van Halen, drummer Alex Van Halen ex-wife was living a couple of floors above us and was prone to addiction issues. Every now and then her boyfriend would call for Chris one of my roommates to help out or rather 'wake her up.
Our main mentor was neighbour Murray MacMillan, a British sound engineer based in L.A. He was in charge of the British acts on tour...Deep Purple etc. And musicians would leave him guitars to 'break in'. He would take us to the 'Cat and Fiddle' on Sunset boulevard, a pub ran by Kim Gardener, a former British Invasion bassist to hang out. Murray would sneak us into SIR studios to watch rehearsals. At one point I became obsessed with Boogie amps and naively considered buying one and bringing it back to France. I mentioned this to Murray and low and behold, he took us to see a Black Sabbath rehearsal...Tommy Iommi was selling his amp heads. So we arrive in this small dark room and Iommi, Glen Hughes and the others were playing at ear-splitting volume. After they'd finished Murray showed us the gear for sale...A stack of 300-watt Boogie Coliseum heads...That was the end of that.
Freelance session work includes...
RWP Productions U.K, Konk Studios (The Kinks recording studios in London) U.K, Davout Studios, El Cortijo studios (Spain), Euromedia, Harryson, Aquarium studios, Milkshake studios, Studios d'Aguesseau, The Tube Station etc.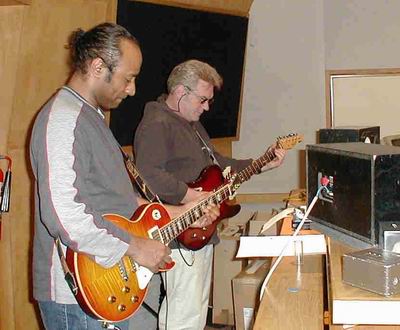 Recording at the Kink's 'Konk Studios, London with Al Hodge for Suzi Quatro.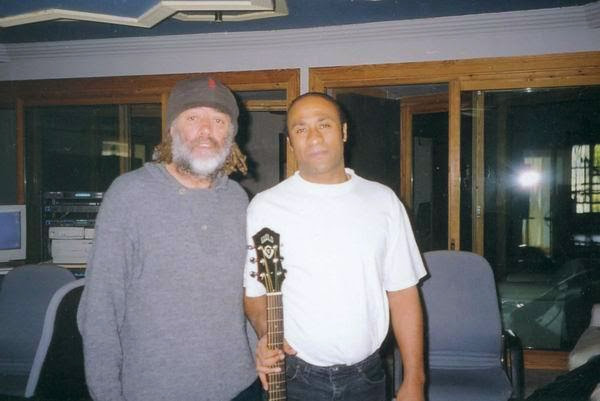 With producer Trevor Morais, El Cortijo Studios, Spain.
Video of El Cortijo, Studios.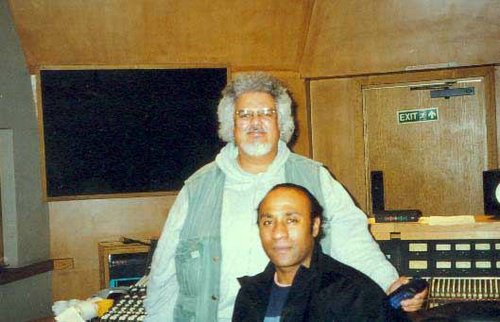 With Jean Roussel, Konk Studios, London.
Played and worked on projects with artists and musicians including :
Elkie Brooks, Lionel Ritchie, Suzi Quatro, Benjamin Zephaniah, Ina Forsman (Finland), Katarina Pejak (Croatia) and a bundle of sessions.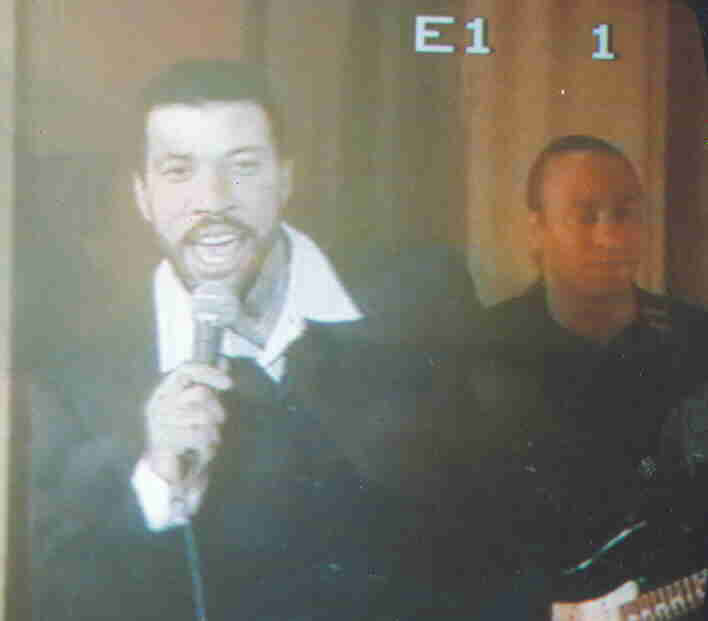 Lionel Ritchie.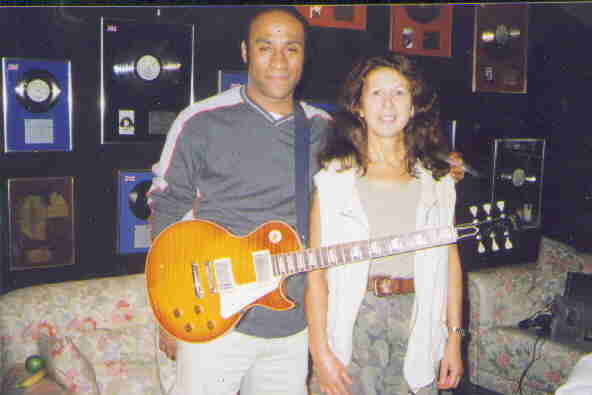 Elkie Brooks at her rehearsal/recording studio.
B.B.C Live in Belfast, Maryport Blues Festival, The Unfinished Business Tour, The Strange Fruit tour, The Hits and the Blues Tour, The Shangri-La Tour, The Christian Harling/ Dionne Warwick tour, The Berlin Acoustic Nights/ Holy Grail Guitar Show. Concerts in France, Germany, Switzerland, UK, Ireland, Italy, Morocco, Algeria, Tunisia.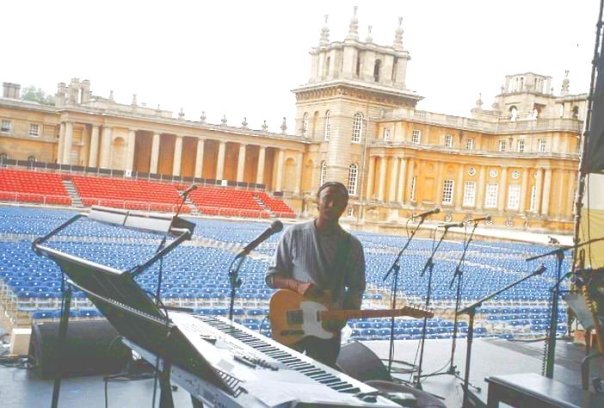 Blenheim Palace soundcheck.
Vilas Guitars (Spain), Lag Hyvibe, M-Tone Guitars (U.S), Daguet Guitars (France), San Lorenzo Guitars (France), Bare Knuckle Pickups, Andy Manson Guitars(UK), Seth Baccus Guitars (UK), Ergon Guitars (Portugal), Tao Guitars (Belgium), Hilko Guitars (Belgium), Meloduende Guitars (France), VL Effects (France), Cornford Amplification (UK), Sheldon Amplification (U.K), Pistol Guitars.
Shortlist...
Elkie Brooks Live: Don't cry out loud, Benjamin Zephaniah: 'Naked', The Absia Project: Chill out on the Seine (World music), Rock Tendences (Instrumental music), Mike Cahen :Unplugged at Home (Solo album), Acoustic & Electric Guitar Compilation I, Coast to Coast, Parisian Nights by RogMikEnzo Live, Daydream by Amanda Fahey.
Alvin Lee (Ten Years After), Bernie Marsden (Whitesnake), Geoff Whitehorn (Paul Rodgers, The Who, Paul McCartney), Al Hodge, Van Wilks, Phil Palmer, Sal Bernardi (Riki Lee Jones), Gary Hoey, Mar Todani, Patrice Meyer.
Jean Alain Roussel (Bob Marley, Rolling Stones), Trevor Morais (Bjork, Tina Turner), Duncan Mackay (Ten CC, Kate Bush), Steven Forward (Paul McCartney, Jimmy Page, Charlie Watts, Ron Wood, Johnny Halliday).
Jean Roussel, Johnny Dyke, Brandon Christy, Duncan Mackay, Jacques Bouniard, Gary Karp, Peter Faint, Eric Chevalier.
Steve York (Eric Clapton), Roger Inniss (RogMikEnzo, Chaka Khan, Mick Taylor, Blues Caravan) Brian Badhams, Ken 'Big Dawg' Smith (Nashville session player), Emana, George Wolfhaardt, Kim Yarbrough.
Enzo Todesco, Patrick Buchmann, Ken Dalluge, Mike Richardson, Gerry Conway, Jaimie Little, Alain Decampos.
Indian Classical musicians
Sabir Sultan Khan ( Sarangi) , Amanat (Sitar)...
Music for syncs and publishing
Member of Speegra Publishing, a London based music publishing company. He has written a catalogue of tracks for advertising and films which are available to hear on the Speegra Website.
Country Club, Peugeot.
Mike's Music Connection : Seminars and clinics.
International Music Seminars (Antibes, Montpellier) Teaching and coordination.
With Robben Ford, Al Di Meola, Pat Metheny, Joe Diorio, Ritchie Beirach, Gary Hoey, Jacques Bouniard, Frank Gambale, Ken Dalluge, Quest, the Chick Corea Band
Cours Florent, ensemble rehearsals with Jean Roussel, Marten Ingle, Bobby Rangell and Arnaud Frank; The Centre Agora, Paris, MJC, Nimes
Guitars over the years...
Classical (brand unknown), Maya Strat copy, Ibanez LesPaul copy, Ibanez Firebird copy, Ibanez Silver series Strat copy, Ibanez double neck 12/6 string, Yamaha SG 200, Ibanez bass, Larivée bass, Gibson 335 sunburst, Gibson 335 dot, LesPaul Standard '79, Fender Strat (JV Squier), Danelectro, Stratocaster, Gibson Les Paul, Gibson 175, Vox Phantom, Martin, Classical, Meloduende Phantom, Martin D28, Fender Telecaster, Pistol Guitars, Martin OM type Francois Champarnaud handbuilt acoustic.
Gem 20w, Music Man 212 HD 130, Roland 20w, Mesa Boogie, Cornford, Sheldon 1,5 w, Line 6.
In the studio:
Music Man, Marshall 2x12, Mesa-Boogie, Line 6 Pro, Cornford, Rocktron, Rockman, Fender Deluxe
On stage:
Cornford, Mesa Boogie, Sheldon, Music Man, Peavey, Charlie Acoustic, AER, Line 6, Cornford, Marshall and Fender.
Influences
In the beginning: The Stones (local band from Richmond) tracking their different guitar/amp/studio sounds through the years.

Keith Richards for his raunchy gritty sound, timing, attitude and call and response style approach and his use of open tunings. Brian Jones for slide guitar.
Mick Taylor, Peter Green, Gary Moore, Eric Clapton, Jeff Beck, Albert King, Otis Rush, Robben Ford, Sonny Landreth, Ry Cooder, David Bromberg, Mike Bloomfield, Johnny Winter